Our Vision
Create a better tomorrow by providing win-win solutions to our valued customers, partners and to the world.
Our Mission
Quality investment opportunities, along with in-depth assessments and risk analysis, ensure an optimal investment portfolio.
Coupled with decades of knowledge and experience and by undergoing various rigorous investment test cases, the result is a robust and comprehensive investment analysis system that delivers valuable incentives to our investees and investors.
EXERCISE SYSTEMATIC INVESTMENT PROCESS
Place strong importance on professionalism and expertise within our team members, concentrating on key areas where relevant knowledge and abilities that bring value to our customers.
STRIVE TO INNOVATE AND IMPROVE
Cultivate lifelong learning mentality within our corporate culture, it reliably results in our people being more proactive, efficient and demonstrably responsible in discharging their obligations.
DELIVER GLOBAL IMPACT
Drive excellence, professionalism and ownership of financial insights empower our team to derive meaningful contributions across geographical locations by providing quality investment opportunities.
Skylight Group of Companies core business scopes are listed below:
Assist Small Medium Enterprises to scale up business and expand regionally
Provide equity financing and intellectual know-how to scale for Bigger Companies to grow faster on the global stage
Provide international standard corporate consultancy and advisory
Assist and manage Ready Companies to execute Merger & Acquisition (M&A), list via Initial Public Offering (IPO) or Reverse Takeover (RTO)
Most importantly, fulfil our investees' and investors' objective of achieving compounded, consistent business growth
"We provide investment management services that help institutions and individuals succeed in markets all over the world. We are a truly global firm that combines the benefits of worldwide reach with local service and relationships."
"We deliver expertise, scale, trust and strength of our experience. Our values of client focus, integrity, teamwork and excellence guide the decisions we make and the transactions we process."
"In today's VUCA world, past performance does not guarantee future results. Existing data represents past performance and current returns may be lower or higher. Investors should consider the investment objectives, risks, charges and expenses carefully before investing."
"Investments by Skylight Group of Companies are subjected to investment risk, including possible loss of the principal amounts invested. We invest in companies that are going for initial public offerings, private placements in listed companies and private projects. These instruments are unseasoned equities lacking trading history, a track record of reporting to investors and widely available research coverage which many result in price volatility."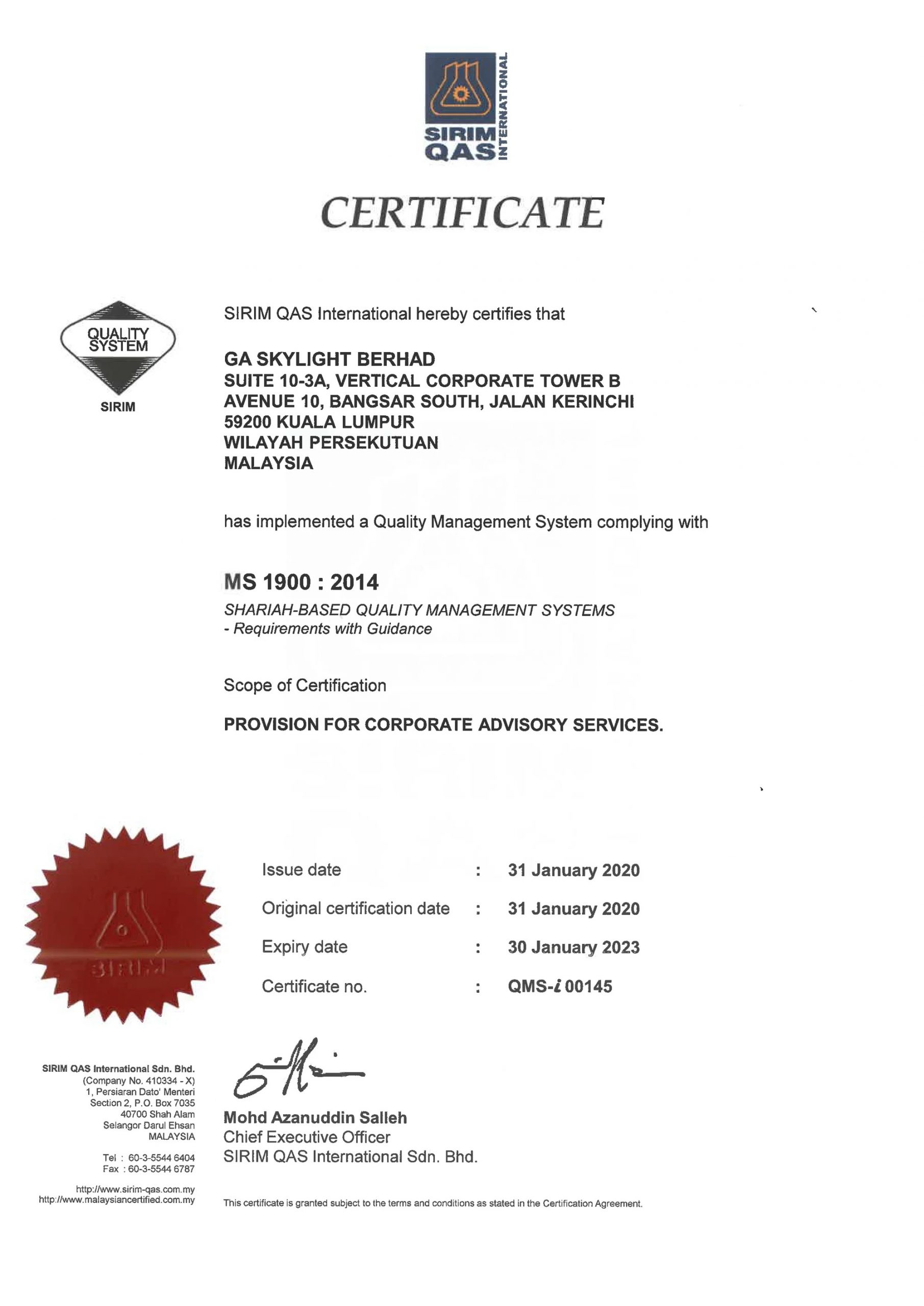 MS 1900:2014
Shariah-Based Quality Management System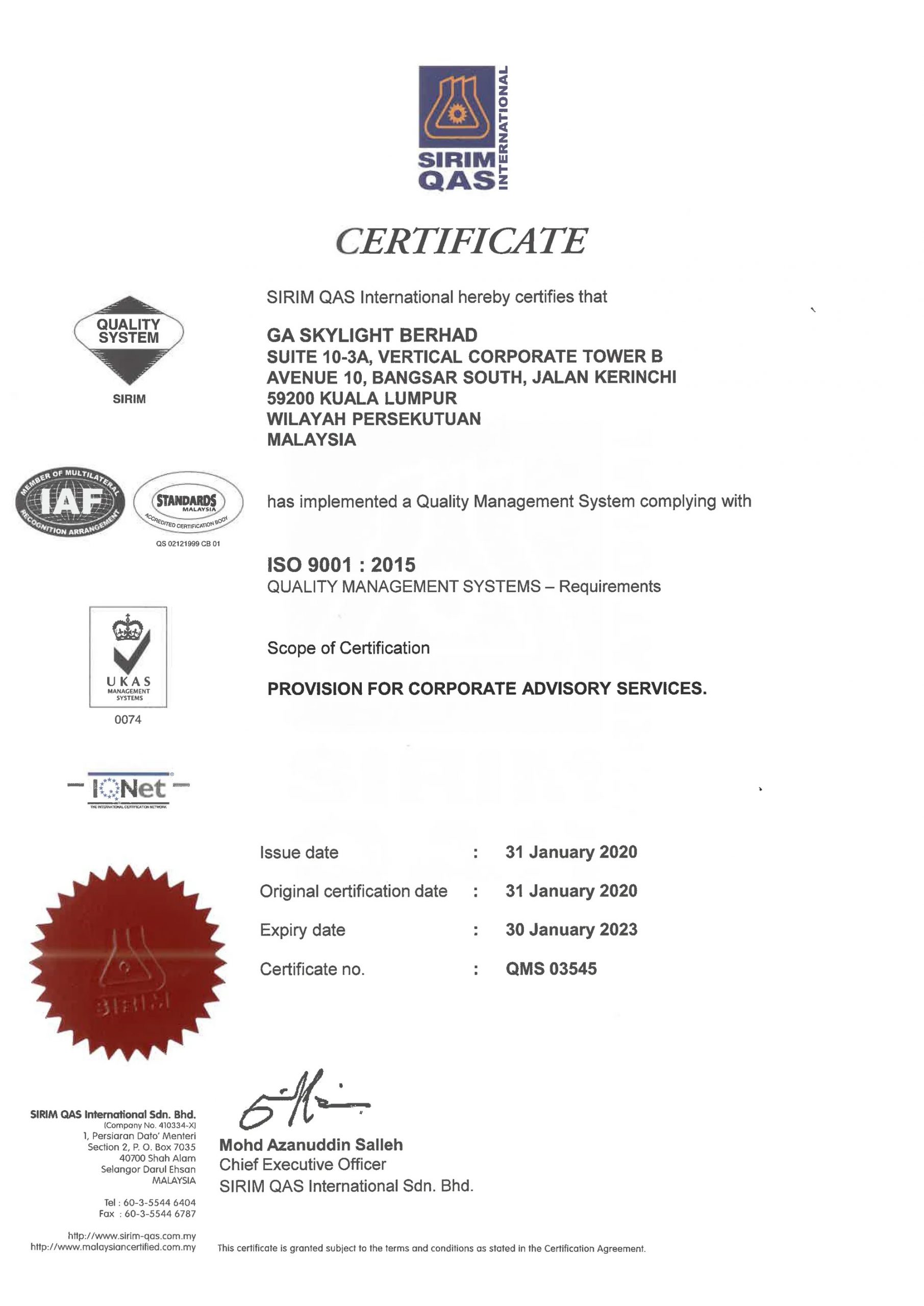 ISO 9001:2015
Quality Management System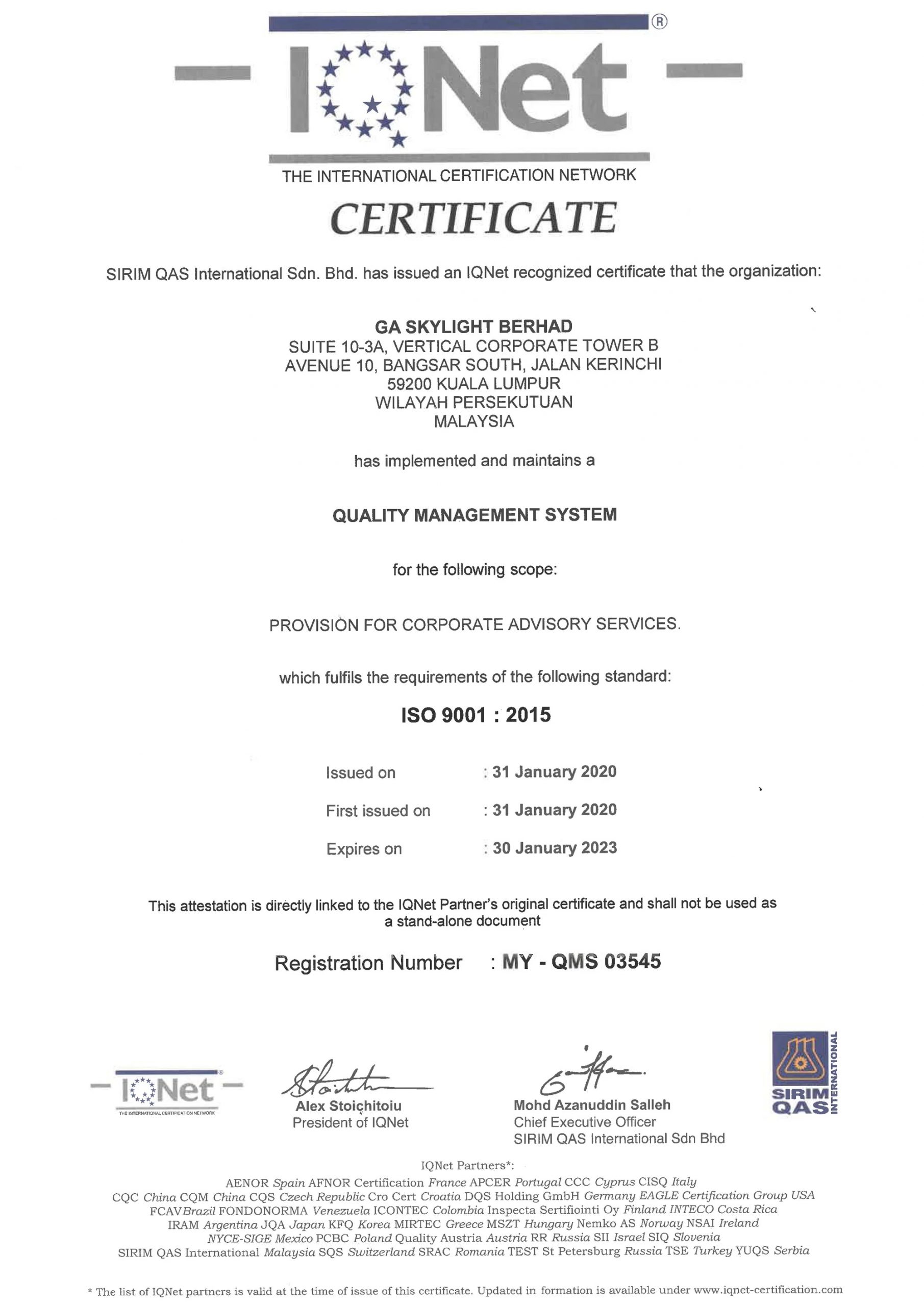 ISO 9001:2015
Corporate Advisory Services
Skylight Group of Companies is proud to be awarded a double certification of MS 1900:2014 and ISO 9001:2015 by SIRIM QAS International Sdn Bhd, Malaysia's leading certification body. Being a partner of the International Certification Network (IQNet), companies wanting to comply with internationally recognized standards, have found their ideal solution in SIRIM QAS International's certification scheme.
To become compliant, Skylight Group of Companies underwent stringent evaluation processes that included quality management system development, management system documentation review, audit and initial assessment. A thorough review of our management system was conducted before certification was accomplished. Accreditation by an independent third-party specialist (SIRIM QAS International) gives our clients assurance that our commitment to quality permeates everything we do.
MS 1900 is a certification for organization seeking a Shariah-based quality management system. The standard specifies requirements for a Shariah-compliant quality management system, ensuring incorporation of appropriate and universally-accepted values in our company's quality management process. The standard includes halal aspects of delivering products and services. Obtaining MS 1900:2014 certification officially verifies that Skylight Group of Companies is in compliance with internationally recognized Shariah requirements.
The scope of Skylight Group of Companies business, primarily in providing corporate advisory services are in accordance with the latest Shariah governance regulations. "Being a Shariah-Compliant organization is a significant feat as it ensures Skylight Group of Companies maintains high standards services, and will continue to deliver great value, quality and excellence to all stakeholders," said Dr. Choo Koon Lip, the Director of Skylight Group of Companies.
ISO 9001 is the most widely used and recognized standard for global Quality Management Systems. ISO 9001 certifies that an organization produces quality products and services as well as satisfies customers' requirements and industry standards. Skylight Group of Companies is proud to be awarded ISO 9001:2015 certification – thus being recognized that our products and services meet the needs of clients through an effective quality management system.
"We have developed and implemented our quality management system in order to improve overall performance, especially in maintaining a high-level of quality and strong customer service. Our decision to work towards ISO 9001 accreditation demonstrates the commitment to providing high-quality and consistent products and services to our clients on top of our ongoing investment in development and improvement," added Dr. Choo.
In summary, we emphasize that Skylight Group of Companies is built with quality and transparency. We integrate the attitude of quality in our daily work. We continuously challenge ourselves to improve our quality management system to provide products and services that fulfill or exceed the needs and expectations of our customers, complying as much as possible to agreed specifications and official regulations.
Global Asset (GA) is a multinational group of affiliated companies that provide a vast array of corporate solutions to international corporations and personal investors. Skylight Group of Companies is the Malaysian arm of GA.
The core investment engine of Global Asset is to remain unbiased or neutral, contrary to market trends. This allows our investment strategy to generate consistent and positive returns from rising and falling markets under different economic climates.
Professional and experienced managers apply principled, systematic investment trading models to capture momentum-based effects in a consistent manner across asset classes to generate positive returns amid up and down markets. We believe this offers useful diversification to many investors, private or institutional, given this approach's weighted average stable performance and dynamic risk management.
The description of the strategy is general and is not intended to be exhaustive. The investment model employed by the investment team is proprietary to our funds. This may involve leverage opportunities in some markets such as private banking tools and foreign currency trading.
For Corporate
Corporate Finance and Advisory solutions
Global Asset partners with professional advisors in the Australia Initial Public Offering ("IPO") space to bring good companies to list on the Australia Stock Exchange (ASX)
Fund Administrative solutions
Global Asset is strategically located to support investment fund managers in the Asia-Pacific Region. The Group offers independent Third Party Fund Administrators that provide comprehensive and customized service with flexibility that is tailored to meet the individual fund's unique structure.
Financial leasing Advisory solutions
Through a Licensed Subsidiary, Global Asset invests and partners with institutional and corporate investors to deliver unique financial leasing investment opportunities.
Compliance & Licensing advisory solutions
Our professional Group consultants offer Compliance & Licensing advisory for clients who are looking to apply or engage a licensed entity to perform Regulated Activity.
For Individuals
ASX pre-IPO and IPO opportunities
On the back of our Corporate Finance and Advisory department, Global Asset offers Pre-IPO and IPO opportunities to investors that are managed and/or co-managed by Global Asset and are undergoing the listing process.
PROFESSIONAL INVESTOR FUND OPPORTUNITIES
For investors who prefer to invest in a Fund rather than a direct IPO project, Global Asset offers a Professional Fund that applies Capital Growth methodology. It hosts a regularly updated portfolio of Pre-IPO and IPO projects that the Group advises / manages / co-manages / participate in their Listing process and due diligence.
EQUITIES AND FOREIGN CURRENCY MANAGEMENT SOLUTIONS
Through a Global Asset Subsidiary, we offer lucrative opportunities comprising Equities and Foreign Currency Management Solutions to investors and institutions. Investors simply need to setup a trading account with their preferred brokerage firm or choose from a list of Regulated Brokers to benefit from this liquid and fast moving instrument.
ALTERNATIVE INVESTMENT OPPORTUNITIES (EXISTING CLIENTS ONLY)
From time to time, Global Asset may unearth a gem (company) or special project and structure a great deal. These in-demand Alternative Investment Projects are open only for a short window and remain dedicated to our privileged clients.